Pyrrole Disorder Signs and Symptoms – When to Seek Help
Pyrrole Disorder, also known as Pyroluria or Pyrroles, is a metabolic disorder that most commonly manifests as a mental health condition, poor ability to handle stress, immune as well as metabolic issues.
Pyroluria is something I have personal experience with and understand its varied digestive, mental and systemic symptoms intimately. And I can tell you with experience and certainty: there is much work but there is a light at the end of the tunnel.
Pyroluria testing is becoming more accepted in Australia by nutritionists, naturopaths and integrative doctors. Clinically, I find it relevant as it helps identify this important imbalance in zinc, B6 and other mineral deficiencies as well as copper related issues.
Your Pyrrole Score is an indicator of oxidative stress
It is very common for me to see a client who comes in with a statement like this: "I've been diagnosed with pyrroles and am on this treatment" or "My child has been diagnosed with Pyrroles and prescribed x,y,z".
What we have to remember is that we all have polymorphisms in our genes, every single person has hundreds of SNPs ('glitches') that affect us.
Pyrolluria is no different and even though so far there hasn't been a specific gene identified responsible for pyrroles, it is one of those glitches that GIVEN the RIGHT ENVIRONMENT can prove problematic.
Pyrroles become an issue in susceptible people when the environmental impacts become too much. Pyrroles urine test results will always be affected during times of stress. Trauma and persistent physical or emotional stress are usually key triggers that almost always are implicated in the start of someone's long term health issues.
On hair analysis I can see how much stress has affected someone by looking at the adrenals (sodium and potassium) and copper levels as well as the 'calcium shell'- a build up of hard calcium in soft tissues of the body to wall off the trauma or ongoing stress. In susceptible people this will show as elevated pyrroles on the urine test.
Clinically, I view pyrroles as an indicator of how much oxidative stress is affecting the person and how antioxidant deficient they are.
There are many symptoms that can be present and many are listed in my Pyroluria blog here.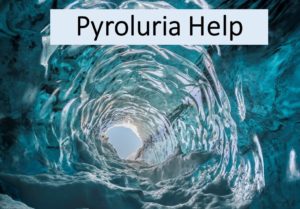 Conditions that commonly accompany Pyrrole Disorder
Gut imbalances:
Low hydrochloric acid, SIBO, IBS: we cannot make sufficient stomach acid (HCL) without zinc and B6- the essential nutrients that help produce stomach acid. When the partially digested bolus of food leaves the stomach that hasn't adequately digested the food, it doesn't trigger the right amounts of enzymes in the small intestine for optimal absorption. This triggers gas and bloating and can over time lead to SIBO.
I have written extensively on IBS and SIBO here.
The absolute key issue to address for anyone with Pyroluria is gut health. This is were most of the inflammation and oxidative stress comes from. If you are experiencing ongoing gut issues (such as pain, feeling bloated with irregular bowel movements, diarrhoea, loose stools or constipation or alternate between all of them, food reactions and many others), my ONLINE PROGRAM – HEALING IBS – is an excellent start. It will guide you through a 5 week elimination and re-introduction diet as well as provide worksheets and recordings to re-program your stress response and calm your nerves, which calms the gut.
Food intolerances:
Gut permeability ('leaky gut') is common with Pyrroles because zinc is a required mineral to maintain the integrity of tight junctions in the small intestine. When we have a chronic zinc deficiency, the tight junctions are compromised leading to large undigested proteins escaping into the blood stream and triggering immune responses.
Many people with pyrroles are intolerant of gluten, especially wheat, dairy, soy, sometimes eggs and corn and others. Often the intolerances can be resolved with the appropriate pyrrole disorder treatment.
Liver and gallbladder issues:
When the level of HCL is inadequate due to low zinc and B6 as well as stress, the bolus of food that exits the stomach is not at the right acidity (Ph) to trigger proper bile flow. Without a good amount of bile, bacteria accumulated in the small intestine, leading to SIBO
Thyroid and adrenal disorders:
Our HPA axis (the hypothalamic pituitary axis) that connects the brain to the adrenal glands is very finely attuned to stress in the environment. When we lose zinc and B6 due to pyrroles, as well as magnesium for many and biotin our ability to tolerate stress becomes weakened. The adrenal system suffers and energy is significantly diminished.
All my pyrroles clients are very fatigued. They struggle with exercise and day to day tasks and usually say that their energy is much lower than it used to be. The extent of their adrenal fatigue can be seen on hair analysis and usually takes a long time to correct.
When the adrenals are flagging, the body slows or shuts down the thyroid and puts the whole system into hybernation. It is safer that way- the body is smart and if it can tell you are heading for burnout it will force the thyroid to slow down in order to preserve vital energy. It is a mistake to try and 'fix' the thyroid and push it harder when there is active stress and nutrient depletion present. These factors need to be addressed first.
Chronic infections:
95% of the time my pyrroles clients have long-standing infections that are a further burden on their system. Viral infections such as EBV (Epstein-Barr virus) are very common but hit pyrroles people harder leading often to chronic fatigue. Why? Because they never had the resources such as zinc and vitamin A to enable their immune system to function properly and fight off the original virus.
Candida and other fungal infections are very common with pyrroles due to significant copper imbalances and mercury overload that result from stress and zinc deficiency. Mercury 'feeds' Candida in the body and is almost always an issue when zinc and selenium are low and mercury proliferates.
Streptococcus (strep) overgrowth is also common and many with Pyrroles have ongoing ENT issues, with a large percentage having had adenoids and/or tonsils removed at some stage in their life.
Mental health imbalances:
Anxiety or depression (or both) always manifest with pyrroles. Zinc, B6 and magnesium are highly stabilising nutrients and are required for the production of GABA- the only inhibitory (calming) neurotransmitter in the brain. Without GABA we drown in a world of almost constant anxiety, from which many don't see an escape even when on prescribed medications.
Pyrroles lead to a 'leak' of zinc and B6 leading to a continuous GABA deficiency and a tendency to addictions that 'calm the nerves' such as smoking and alcohol. I truly believe that personalised nutritional balancing is the only way to achieve lasting mental health.
Depression is common with pyrroles because in order to make 'happy' neurotransmitters dopamine and serotonin (and all neurotransmitters in general) we need to have good stomach acid to break down protein in food to make those neurotransmitters. Of course we also need to eat the protein in the first place! Many of my clients are extremely protein deficient and many choose vegetarian diets because they are unable to digest meat (to which the solution is – improve absorption, not stop eating it!).
Vegetarian and vegan diets if chosen for philosophical reasons need to be extremely carefully managed if you have a pyrroles tendency as they are very rich in copper and low in zinc and for most people make things much worse especially when it comes to mental and hormonal health.
Copper overload is very common with pyrrole disorder – zinc deficiency lowers metallothionine – a protein required to bind excess copper. A large percentage of those with pyrroles will have a copper overload problem.
"Severe deficiency of vitamin B6 has been associated with irritability, depression, poor short-term memory and psychosis. This is not surprising since it is required for efficient synthesis of serotonin, dopamine and GABA". (W.Walsh Phd, 'Nutrient Power'). 
When B6 is deficient as with pyrroles, it opens us up to a myriad of problems including ADHD, depression, anxiety and sleep disorders. Many sufferers unfortunately end up on anti-depressants and ADHD medications whereas the underlying treatment is nutritional and if implemented with a health professional who specialises in mood balancing and Pyroluria is without side effects.
Most B6 deficiency is genetically acquired so treatment often involves ongoing supplementation of much higher doses than RDI (recommended daily requirement).
Heavy metal toxicity
Zinc deficiency as well as copper and iron imbalances that accompany Pyroluria opens us up to increased intake of heavy metals. Mercury can serve as a direct replacement for zinc at enzyme sites- it has similar molecular properties (is below zinc on the periodic table, together with cadmium).
The body will readily absorb mercury when zinc is deficient and those with poor detox and methylation genetics will suffer most. Mercury is a neurotoxin and I find it present on many tests of those with pyrroles.
Cadmium is also a potent carcinogen and does cause issues for many with pyrroles especially when exposed to cigarette smoke and farming fertilisers.
Pyroluria can affect your quality of life. You should test for pyrroles so that the associated deficiencies and imbalances can be treated if:
you experience mental health issues such as anxiety, depression, PTSD, OCD, bi-polar and any others- these CAN be addressed through a nutritional balancing program and addressing them dramatically improves lives
you grew up with a depressed or alcoholic or drug addicted parent, or a parent who was there physically but not much there emotionally- the tendency for pyrroles does run in families and many of my clients have 'the alcoholic father', the 'depressed mother', the uncle who committed suicide, etc
you were a 'sickly' child who often was given antibiotics for tonsillitis, bronchitis, ear infections, etc- this is a big characteristic of chronic zinc deficiency and food intolerances
you have taken oral contraceptives and had a big negative reaction which probably forced you to discontinue their use- a clear indication of a big copper overload
you have chronic hormonal issues: painful periods, moods all over the place, excessive bleeding, fibroids, fibrocystic breasts, breast or uterine cancers- more indication of copper/zinc imbalance
you have suffered significant trauma at any stage of your life, physical or emotional and haven't been well since of feel you've never recovered- such events have a profound effect on our nervous system and immune system, lead to multiple nutrient deficiencies and create severe stress
You have been put on anti-depressants by your GP or psychiatrist for any length of time
you can tick more than 10 symptoms listed in the table in my original Pyroluria blog
Tests often ordered to address Pyroluria symptoms through a Functional Medicine Approach
I usually see pyrroles as a piece of a much larger health puzzle and work to address the underlying issues listed above such as gut imbalances, mental health issues, immune dysfunction and others. Pyrrole issues never appear 'by themselves' so require detective work to get on track. I often hear from clients that they have previously been prescribed a compounded formula with several ingredients to address their 'disease' of Pyroluria.
In my practice, this is not an effective approach on its own. Just taking a compound indefinitely does NOT address gut health, methylation, thyroid, adrenals, infections, heavy metal overload and other individual issues. This is a band aid solution and I encourage you to adopt a more thorough approach to your health.
Here are tests I usually use in Pyroluria cases in clinic when issues are multifaceted. Not all of these are required for everybody, but they all usually show very insightful findings.
Hair Mineral Analysis– essential test to understand long-standing mineral imbalances, heavy metal overload and adrenal and thyroid patterns. Watch my video HERE showing examples how Hair mineral analysis can help those with Pyrrolles
Blood tests for all minerals involved- zinc, copper, iron, thyroid function and some others
Pyrrole urine test- useful to understand the extent of the problem. I have seen scores as high as 800 in families with a long lineage of mental health issues. Usually I find however, that even with a low pyrrole score there can be many issues to address and the score itself may not be of significance- more on that here
Organic Acids test- a very comprehensive urine test that looks at bacteria, yeast, neurotransmitter issues, oxalate levels, B vitamin metabolism, glutathione levels, amino acid, carb and fat metabolism and energy production. Extremely comprehensive and valuable for when 'nobody has been able to figure out what is wrong with me' type situations
Genetic testing– often needed to understand the depth of the mental health or methylation issue
Comprehensive Digestive Stool analysis– these are not cheap but extremely valuable if gut issues are involved
DUTCH complete hormone panel– particularly useful for women (but some men also) in understanding hormonal dysregulation and mood issues as well as stress issues
Food intolerance and compatibility testing – often necessary to solve the gut health and bloating/indigestion/reflux/constipation etc puzzles
Porphyrrin urine test for heavy metals if they do not show on hair analysis and are suspected
Special mention: Gilbert's Syndrome and Pyrroles
This is something that doesn't get much attention but I find that a large percentage of my Pyrrole clients also have Gilbert's syndrome- a genetic condition which leads to continuously elevated levels of toxic bilirubin on blood tests.
If you have a series of blood test results from several years and look at the Biochemistry panel you will notice bilirubin there- a consistent elevation >15 umol/L is a strong indication of Gilbert's and can also be confirmed with a genetic test. Your GP will say it's a 'benign' condition and nothing to worry about. This is sadly far from the truth.
The reason I mention Gilbert's in relation to Pyrroles is that this is a liver heme breakdown issue, just as pyrroles are. There are no studies on this, but I personally have both conditions and see it in a lot of clients.
Why is high bilirubin a problem?
Just like pyrroles it increases oxidative stress in the body. It's a toxin and in consistently large amounts will cause damage throughout. It shows that the phase 2 liver function of glucoronidation responsible for the removal of many toxins is not functioning.
You can read about Gilbert's syndrome in my blog HERE.
If you believe that Pyroluria (Pyrroles Disorder) may be a key player in your health conditions and want to address it in a comprehensive way, book your consult in my calendar HERE to discuss. My virtual consults are open to patients world-wide.
We all know that Pyroluria is a stress intolerance disorder. I find that ALL of my Pyrrole clients benefit greatly from mindfulness based stress reduction. Here is an excellent e-course that you can do at your own pace that will help with anxiety, stress tolerance and resilience. Highly recommended (and also suitable for children over 14y.o):
Maria.
Share
Like what you've read? Sign up to receive regular articles on nutrition, recipes and more
Browse Posts by Category