Copper: The Key Mineral For Emotional, Hormonal & Mental Health
Copper is a mineral that has had me fascinated for a long time now. It all started with me finding out that I've had Pyrrole disorder my whole entire life. It's a condition I increasingly see in clinic with various outcomes, but primarily as a huge influence on mental health presenting with irritability, inability to cope with stress, anxiety, depresssion, ADHD, addictions and in extreme cases – schizophrenia and other mental health issues.
In Pyrrole disorder, there is a life-long deficiency of zinc – this allows copper to accumulate, primarily in the liver and the brain, with all sorts of far reaching consequences. However, many people present with copper dysregulation, despite not having Pyrrole disorder.
Copper is found in many foods
The highest concentrations in chocolate, seafood, nuts, avocado, mushrooms and french fries. Often, a copper toxic person will crave these precise foods on a daily basis.
I remember a time when all I wanted to eat every day was prawns with avocado, almonds and chocolate!
Other major sources of copper
Copper water pipes leech minute amounts of copper into our water – especially older houses built before 1980 will have copper pipes. This may seem like a minor source, but if you already have a copper overload, this can 'tip you over' your copper levels.
Once I was living in an old house with copper pipes and without a proper reverse osmosis filter- within 1 month I started getting chin acne (hormonal) and other signs of hormonal dysregulation. After moving to a place with a proper water filter, all this stopped.
Both the oral contraceptive pill and the copper IUD increase the body burden of copper. Definitely to be avoided if you have a copper/zinc imbalance or Pyroluria.
Copper is built up by the baby during gestation – this is a normal physiological process because copper is important for building new blood vessels. After the baby is born, it is supposed to balance this storage out by taking in zinc from the mother's milk and protein rich foods. If the mother is zinc deficient, like 90% of women today- this process doesn't take place and the child ends up with a strong copper/zinc imbalance.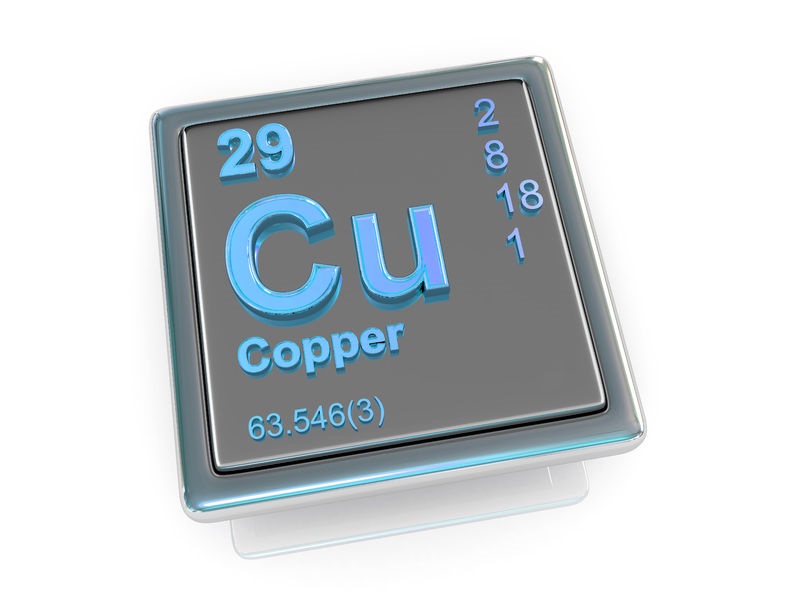 What does copper have to do with mental health?
When we focus on the key minerals that influence the functionality of our brain, we need to pay close attention to 2 of them: zinc and copper.
To make things simple, you can think of zinc as the 'balancer' – it's the calming, relaxing, stabilising mineral. It is a strong anti-oxidant. It helps you make rational decisions, it helps make the brain's calming neurotransmitter – GABA, it is the body's 'anti-depression' tool.
Copper on the other hand is what I lovingly call 'the crazy one'.
Copper is a conductor of electricity – it fires up the brain. It is a pro-oxidant or 'free radical'. Copper acts as a neuro-toxin when in excess and can alter the levels of neurotransmitters in the brain, especially dopamine and noradrenaline.
It will create imbalances that can swing a child into major tantrums, an adult into major anxiety and depression and it's dysregulation is becoming so common, for reasons outlined below, that what I believe we now have is an epidemic of copper/zinc imbalance leading to major mental health consequences.
Beyond mental health, increased amounts of copper in the body are often associated with:
anemia iron deficiency (copper blocks iron absorption)
low thyroid activity
allergies
headaches
constipation
hair loss
fungal overgrowth including candida
skin conditions
appetite disturbance
hyperactivity
learning disability
and more.
Copper and zinc need to be in proper balance with one another.
To measure this, I use both blood and hair tissue mineral tests. What I often find is that these 2 minerals are out of balance in a major way in many people.
Key reasons for high copper and low zinc so commonly seen today include:
Extremely zinc deficient soils – particularly in Australia. The lab blood ranges for zinc in Australia are extremely low compared to more 'zinc replete' countries. When zinc is low, copper will usually be high. There are often exceptions to this- some people have low levels of both zinc and copper. Copper deficiency symptoms are often the same as copper excess- which is why only a skilled practitioner can help figure out what is really going on.
Low intake of foods containing zinc. The rise of vegan and vegetarian diets is responsible for the decline in zinc intake as zinc is largely present in appreciable quantities in meat and seafood.
High intake of copper containing foods: chocolate, nuts, avocados are the big ones. These are not problematic when zinc intake is adequate, however this is rarely the case these days.
Low intake of vitamin C containing foods- such as fruit and vegetables. Most people do not take in enough vitamin C- a key antioxidant that antagonises copper (a free radical).
Excessive use of iron supplements: iron and zinc compete for absorption. Many people are self-prescribing iron as soon as they feel the slightest twinge of fatigue. Iron deficiency is multi-factorial and requires proper evaluation before prescribing supplements. Read all about iron deficiency and its many causes here.
The extensive use or oral contraceptive pills and copper IUDs. These birth control methods significantly drive copper up in the body via their effect on oestrogen levels (copper and oestrogen are good friends:), so vast numbers of women are spending decades on oral contraceptives completely altering their mineral metabolism.
Copper in the pipes and in the water, especially in older houses.
Copper sulfate is a key anti bacterial agent used in public pools.

Copper passed onto the fetus via the mother– lots of kids I see in clinic have a zinc/copper dysregulation from birth. Dr Igor Tabrizian has written extensively on this in his excellent book "Visual Textbook of Nutritional Medicine". Babies are inheriting their mothers' copper stores, the impacts of which are far reaching, starting with a dysfunctional immune system due to a complete lack of zinc.
Environmental oestrogens (xenoestrogens) from plastics, hormones in cattle and dairy, personal care products and even thermal cash register receipts- all oestrogens drive up copper in the body. They go hand in hand.
What does high copper look like?
The scary scenario I see in clinic is a child born to a mum who has been on the pill for over 10 years before giving birth, who is or was for some period in life a vegetarian, regularly swims in public pools, lives in an older house with copper pipes and drinks from plastic bottles. This is a very common presentation.
This child is likely to have several sensory and developmental disorders as well as fussy eating (zinc deficiency!) and major tantrums. This child will have a compromised immune system, food and environmental allergies, most likely eczema and frequent ear infections. Without a proper copper and zinc balance, it is very difficult to have a fully functioning brain and immune system.
The mum will often have adrenal fatigue, be exhausted, have fluid retention and bad PMS symptoms (all from hormonal dysregulation), feel run down with frequent colds and flus, be irritable and probably on an anti-depressant, have mood swings and ask herself 'Why do I feel so tired every day?'
Any of this sound familiar?
What else goes wrong with too much copper?
One of the world's leading experts on minerals, Australia's Dr Igor Tabrizian has evaluated the effect of excess copper and narrowed it down to these key areas:
Hormone imbalance– xenoestrogens such as pesticides, petrolium products, plastics and pthtalates and hormones in our food supply, as well as hormonal contraceptives block the body's ability to excrete copper.
Joint pains– copper is needed to make collagen and elastin.
Chronic fatigue– high copper predisposes us to viral, fungal and yeast infections- often the key underlying causes of chronic fatigue. Also, copper blocks iron from being absorbed, often leading to fatigue.
Anxiety and depression- copper is needed for neurotransmitter production, however in excess it blocks serotonin (the happy neurotransmitter) and melatonin (your anti-oxidant sleep hormone).
Cancer – copper destroys key antioxidants: Vitamin C and Vitamin E. In conjunction with a high copper person's predisposition to infections due to lack of zinc, these factors combine to increase cancer likelihood. Copper promotes angiogenesis (new blood vessel formation- important in pregnancy), however in cancer, this can promote metastasis.
Copper interferes with the function of body tissues so it is not detectable on regular blood tests (although these can often indicate a copper/zinc imbalance), x-ray or ultrasound.
The best way to evaluate copper stores is hair tissue mineral testing. You can book that with me here if you are interested.
How to deal with excess copper
There are several key treatments I use in clinic to address copper dysregulation.
The key nutrients are zinc and vitamin C, as well as a micro-nutrient called Molybdenum, which balances copper in the body. The doses of these nutrients vary dramatically by individual and require a full assessment including blood tests, hair analysis, a full review of history and environmental toxin exposure.
There are numerous other methods that help address copper issues.
A diet full of antioxidants is recommended and avoiding high copper foods helps the body re-balance itself.
It is absolutely essential to evaluate the need for hormonal contraceptives as these have disastrous consequences on women's health, especially in the presence of elevated copper.
Copper is an extremely under-estimated mineral in terms of its impact on our health and having it in proper balance can have dramatic consequences.
Treatment of copper excess in children can be quite fast, however in adults there is no quick fix and clearing excess copper to restore optimal health requires diligence, commitment and a firm desire for wellness.
I will go as far as to say that this is one of the trickiest imbalances facing our health today, and one with the biggest health benefits once rectified.
If you suspect you have a copper imbalance based on the symptoms described above, book your consult today.
References: Dr Tabrizian, I, "Visual Textbook of Nutritional Medicine", NRS publications, 2012
Share
Like what you've read? Sign up to receive regular articles on nutrition, recipes and more
Browse Posts by Category