Pre-biotic Fibre Rich Flaxseed Bread
Much of my work as a Nutritionist is spent addressing gut health issues – these really underlie all health problems. Many common issues with gut health are parasites, SIBO, leaky gut and candida overgrowth as well as dysbiosis. Read more about these here.
In order to have a healthy gut where the 'good' bacteria outnumber the 'bad' it's not enough to just take probiotic supplements. We need to include foods that feed the good bacteria on a daily basis.
Why we need more fibre in our diets
It is well known that the western diet is devoid of fibre and this has been associated with all western diseases from heart disease to colon cancer. Most of the foods available today are completely devoid of fibre and it becomes very difficult for beneficial bacteria such as Bifidobacteria and Lactobacillus species to survive and thrive in the colon.
When I do gut tests in clinic, most people have virtually zero of these beneficial species of bacteria due to multiple courses of antibiotics, stress as well as poor diet.
This recipe is a simple way to increase fibre as well as healthy fats in your diet.
Psyllium husk has long been known to provide fibre for our colonic flora.
It's important to buy pure organic psyllium (rather than the well advertised brands full of additives and unnecessary ingredients) and always increase your water intake when taking this food.
I regularly use flaxseed meal in my female health protocols.
Flaxseed meal is an amazing pre-biotic and binder and helps us detoxify excess hormones such as estrogen improving conditions such as acne, painful breasts and pre-period symptoms.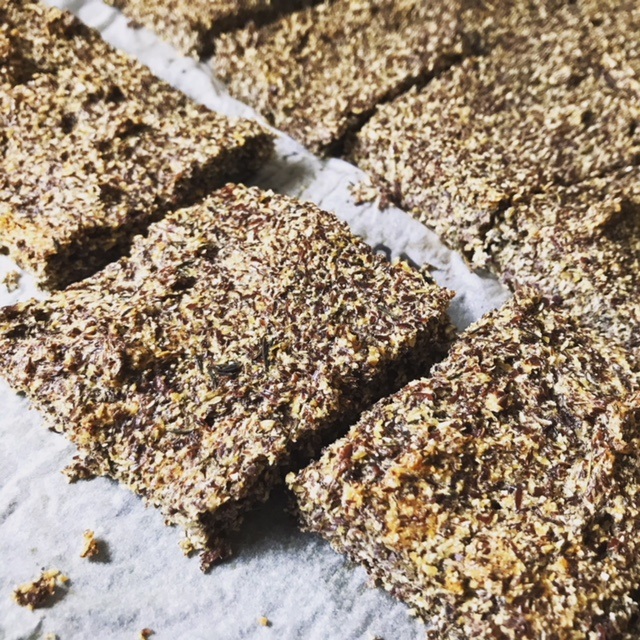 Pre-biotic Fibre Rich Flaxseed Bread Recipe
Ingredients:
2 cups organic golden flax seed meal
2 tbsp psyllium husk ground
1 teaspoon sea salt
2 tbsp dried thyme
5 beaten eggs
2/3 cup water
1/3 cup olive oil
Feel free to add your own favourite herbs and spices for flavouring.
Method:
Preheat oven to 170C.
Prepare a flat oven baking tray with oiled parchment paper or a silicone mat.
Mix dry ingredients well.
Add wet to dry, and combine well.
Let batter set for 2 to 3 minutes to thicken up some (leave it too long and it gets past the point where it's easy to spread.)
Pour batter onto tray. Because it's going to tend to mound in the middle, you'll get a more even thickness if you spread it away from the center somewhat, in roughly a rectangle an inch or two from the sides of the tray. Spread until the layer is roughly 0.5cm thick
Bake for about 20 minutes, until it springs back when you touch the top and/or is visibly browning even more than flax already is.
Cool and cut into whatever size slices you want.
Store in the fridge in an air tight container for up to 1 week.
Freezes well and lovely to heat up in the toaster.
ENJOY!
Tip: store your flaxseed meal and psyllium husk in the fridge for optimal freshness.
Check out more delicious and nutritious recipes here.
Share
Like what you've read? Sign up to receive regular articles on nutrition, recipes and more