Healthy Trifle
Healthy Trifle
What I love about this refreshing dessert are the versatile layers- this is really just an example of what can be created. The sky is your limit- play around with the different elements: jelly, biscuit, cream and fruit- mix them up and choose the colours/flavours you love using the formula below.
Traditionally made for Xmas, this dessert can really be made any time especially in warm weather as it is light, cold and refreshing. The number of layers also depends on the size of the glass dish you choose- mine was a 'standard' trifle dish around 20cm in diameter. It can also be made in individual glasses or bowls, which is a bit more time consuming but I'm sure will look amazing.
Grain and dairy free, zero refined sugar (only small amount of maple syrup used), can be egg free (if using chia egg for biscuit layer), Paleo.
You will need to start the preparation the day before your event date when you'd like to serve the trifle.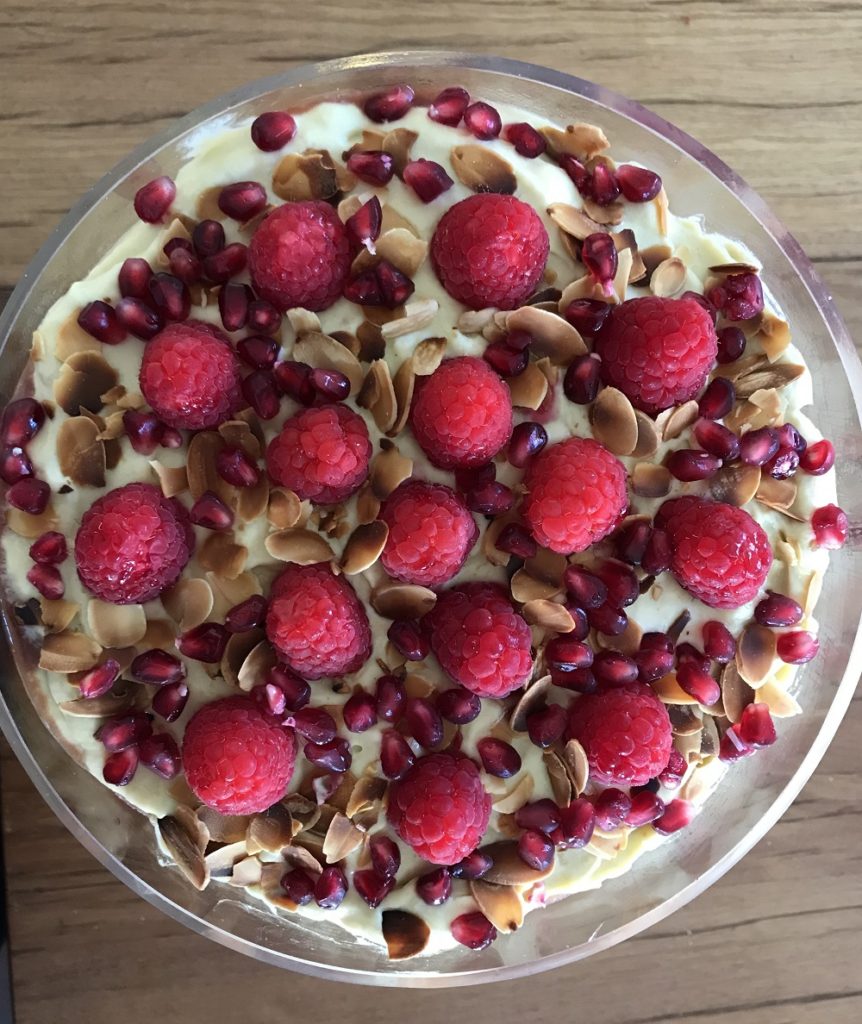 The layers are listed from the bottom up:
Layer 1- Jelly
This is a good base for the trifle as it's pretty solid. I made my jelly with Great Lakes organic gelatin that can be bought online or health food stores.
Measure out the liquid based on how think you'd like the jelly layer to be, mine was about an inch deep.
Ingredients: Roughly 2.5 cups of water, 3 tbsp Great Lakes gelatin and 2 tbsp maple syrup mixed over low heat in a saucepan for about 5 mins. I also added 1/4 cup raspberry kombucha for extra flavour.
Pour the jelly liquid into the trifle dish and refrigerate for about 2 hours. When jelly is almost set, slice 2 ripe peaches and place the pieces into the jelly, so the peaches are 'floating' in the jelly.
Then refrigerate again until solid (about 4 hours in total).
Thinly slice strawberries and place standing up around the perimeter on the jelly.
Layer 2- Cream
This cream was super delicious and was only made from: 2 tins of coconut cream, whipped with a handheld blender stick with 2 ripe sliced mangoes. Use about 1/3 of the cream mix on top of the jelly and save the rest for the next layers.
Layer 3- Biscuit
When I made this trifle I was very short of time and used store bought sponge finger biscuits. It was a one off as normally I would make my own shortbread/biscuit.
Normally, I would use: almond meal (about 2 cups), coconut oil (melted, about 2 tbsp), 1 egg or chia egg, 2 tbsp maple syrup and cinnamon. All blended in food processor and baked in oven at 160C for about 20 mins.
Cut biscuit or shortbread into 1 inch pieces and stand them up around the perimeter of the dish. Place more biscuit or shortbread flat onto Layer 2 cream to make the rest of the layer. Reserve the rest for the top layer.
Layer 4- Peach Puree
Very simple: chop up 2 ripe peaches, cook on low with a small amount of water for 10 mins. I also added 1 tsp of cinnamon. When cooked and soft, puree with hand held blender until smooth. Spoon 1/2 the puree over the biscuit layer.
Layer 5- Cream again
Add the rest of the cream mixture
Layer 6- More biscuit and more Peach Puree
Layer more bisbuit or shorbread. Add the rest of the peach puree on top.
You are pretty much done. Refrigerate overnight.
Layer 7- Cream again
Just before serving, spoon the remainder of the cream on top of everything.
Decorate as you like: raspberries, pomegranate, toasted slivered almonds. I was going to sprinkle chocolate shavings too but ran out of time.
You will need a deep serving spoon with this sort of trifle dish to reach deep and grab all the layers.
Voila!
Share
Like what you've read? Sign up to receive regular articles on nutrition, recipes and more