Make Your Own Aloe Drink
Until now I've mostly known Aloe Vera as an ingredient in gut healing supplements that I prescribe in clinic. I've never been 'into plants'. They die promptly as soon as they come to contact with me. This happens all the time. So when I recently visited the amazing Gwinganna retreat in the Gold Coast and one of the presentations there was about growing your own aloe plants and making your own aloe drink- I have to say I was highly skeptical in my abilities to fulfill this task.
Nevertheless, I was intrigued because I know that the benefits of aloe for skin and most importantly- digestive health are numerous. It is a highly anti-inflammatory plant that helps increase intestinal water content, stimulates mucus secretion and increases intestinal movements thereby relieving constipation. It has many documented studies for IBS treatment as well as gastric ulcer treatment. Aloe is also great as a booster for our immune system.
For an extensive list of aloe's benefits read this article.
For an awesome guide to growing and caring for your Aloe Vera plant read this article.
So, I was nervous but excited to learn a very simple process for making my own Aloe drink that I share here with you. It's easy. The plant is very hardy (it's survived my neglect for 6 months now!!) and this method enables you to have your drink very fresh and full of antioxidants unlike the store versions that are far more processed (and expensive).
Here is a rough guide:
Step 1:
Buy an aloe plant from nursery. Get organic soil. If the plant is very bushy, divide into smaller pots.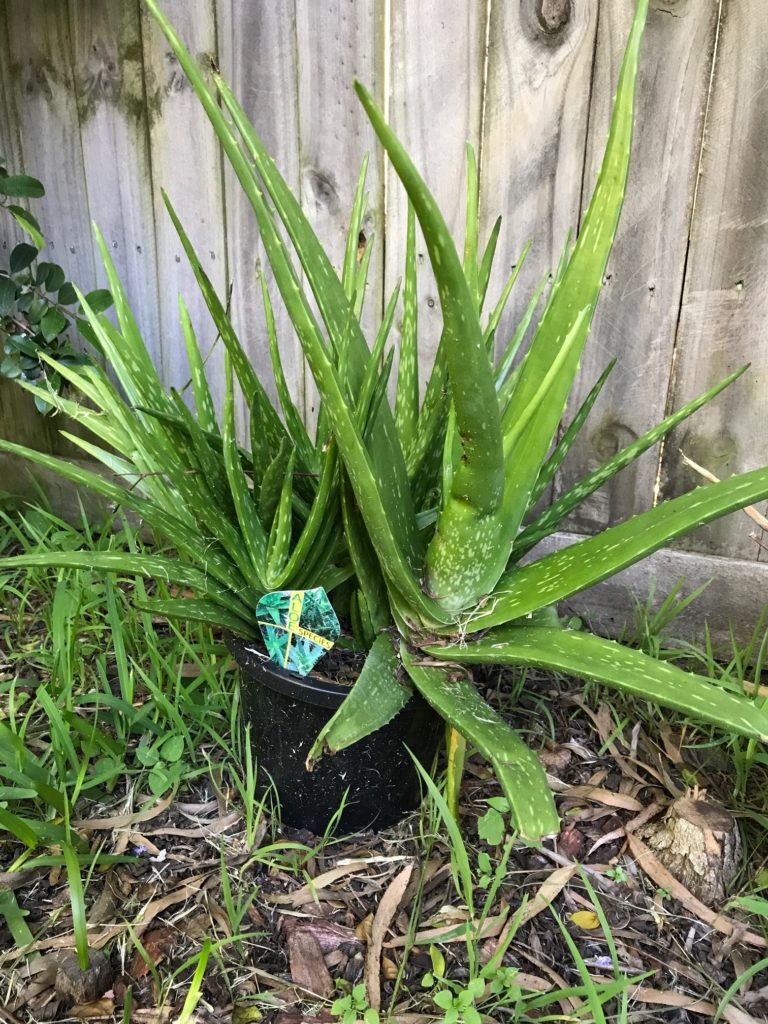 Aloe plants can be grown in any sunny patch and need regular watering.
Step 2:
Choose 2-3 leaves that are quite large and from the outside of the bunch (the inside ones need to grow and mature first). Cut them off at the base with a sharp knife. Let stand in a bowl or glass for 1/2h to drain the sticky and foul smelling yellow goo that oozes out of the leaves.
Step 3:
Using a sharp knife, peel away the spiky corners and peel the green outer leaf
Step 4:
You will see the clear gel 'meat' of the plant inside. This is what you want to use to make your aloe drink. Gently scoop it out with your hand and place in glass jars with filtered water.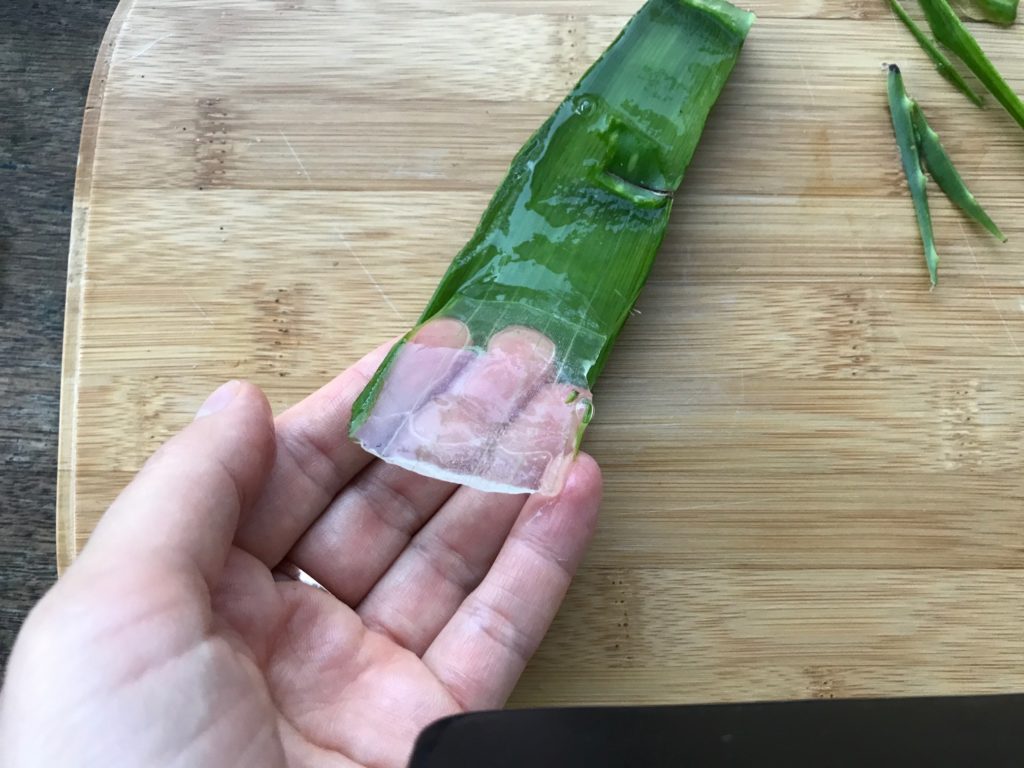 The clear gel inside is what infuses the water with gut healing properties
Step 5:
You are done. Just place several gel pieces into each jar (these jars are 1.5L each and I placed the contents of 1 large leaf into each). Stand overnight in the fridge to infuse, it will be ready to drink in the morning.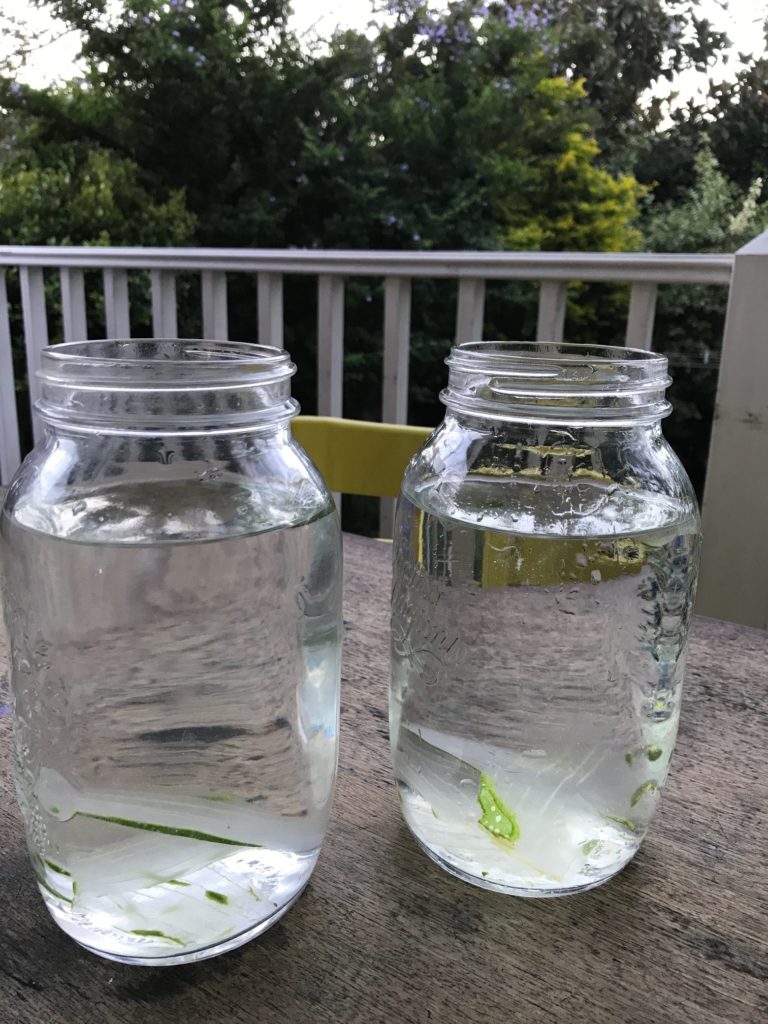 Jars with aloe ready to go in the fridge.
Keeps in fridge for 6-7 days. To improve your digestive health, drink 1/3 glass on an empty stomach in the morning (add some boiled water as it's too cold straight from the fridge).
For serious gastrointestinal conditions, drink 2-3 times a day over several weeks.
Share
Like what you've read? Sign up to receive regular articles on nutrition, recipes and more