Banana Flour Apple and Carrot Slice
I love discovering new ingredients, especially when they are Paleo, gluten free and versatile! One such ingredient I'm using at the moment is banana flour.
Banana flour is obviously gluten free- it comes from bananas:) It's a great alternative for those intolerant to grains and those on a low carbohydrate diet and Paleo followers.
It is high in easily digestible fibre and resistant starch. Resistant starch is great PRE-biotic food- it feeds the good bacteria in your digestive tract. We all know about probiotics, however it is important to provide the beneficial bacteria with feed and resistant starch is such feed. Read a comprehensive review of the benefits of resistant starch here. Suffice to say that consuming resistant starch improves glucose sensitivity and increases satiety (makes you feel full for longer).
As mentioned in the article above, to maintain the benefits of resistant starch it should not be heated- so if you feel like throwing some banana flour in a smoothie, go ahead! If like me you just enjoy having a nice alternative to regular flour, then you can bake with it or make pancakes, use it instead of regular flour. You can buy banana flour online here (there are also a few recipes on this website). I got mine from the Paleo café, but I think it's becoming more available in general health food shops also.
Here is what I made with banana flour, give it a go! Great for kids lunch boxes (omit almond meal and just add an extra cup of banana flour for nut free version). Feel free to add some sunflower seeds or pepitas (1/2 cup) for extra texture. This is not a sweet slice, the maple syrup gives it a nice flavour but if you are strictly avoiding sugar substitutes, omit the maple syrup. If you would like a sweeter version, add 1/2 cup of organic dried fruit (goji berries are great for their antioxidant qualities).
Banana Flour Apple & Carrot Slice
Ingredients:
-1.5 cups of banana flour
-1 cup almond meal
-1 cup coconut oil
-4 eggs
-1 green grated apple
-2 grated carrots
-1 tbsp. cinnamon
-4 tbsp. maple syrup
-1 extra apple sliced for decorating
How to:
-Pre-heat oven to 170C. Line a loaf tray with baking paper.
-Mix all ingredients except the decorative apple pieces in a bowl. If you prefer a smoother texture, blend all ingredients in a food processor until smooth.
-Pour the batter into tray. Place decorative apple pieces on top in neat rows and bake for 40 mins.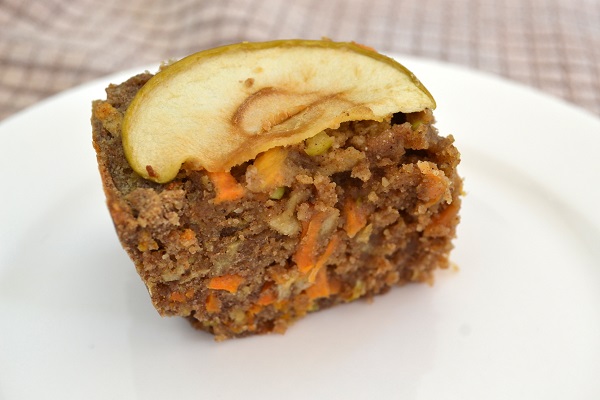 Enjoy!
Share
Like what you've read? Sign up to receive regular articles on nutrition, recipes and more