What to Eat for Breakfast
Breakfast is controversial. I've come to realise this via the reactions of the men and women who attend my workshops to my statements about breakfast.
It usually goes something like this: I inform my workshop attendees that all commercial cereals- all the ones sold in supermarkets with claims like 'plenty of fibre', 'goodness in every bite', 'gives your kids all day energy', etc etc are actually completely devoid of nutrition. Not only do they possess very few nutrients, many of them are actually harmful to our health.
The sheer look of disbelief and outrage that usually appears on most people's faces is the standard response. The response usually goes something like this: 'but we've been eating cereal our whole lives'!
Indeed we have. We being inhabitants of Western industrialised countries. Cereal has become synonymous with breakfast and vast amounts of marketing and advertising dollars have ensured this. It comes as a revelation to us that people in other countries eat regular food for breakfast. Not from a box and not drowned in pasteurised milk from commercial cows.
In other countries, people may eat soup (for example in Vietnam- pho), bacon and eggs (England and Ireland), properly prepared cooked wholegrains (buckwheat in Russia, Poland) or just regular food that they would eat for lunch or dinner! Of course there are the non-cereal eating Europeans who have poor nutritional breakfasts too (croissant and coffee anyone?), but let's focus on the nutrient dense breakfasts we should aspire too.
What's wrong with cereal?
Firstly, I'll elaborate on what exactly is the problem with cereal. There are many, but i'll try and summarise:
1-Cereal grains such as corn, wheat and oats (which the vast number of cereals in a box are made from) are high in refined carbohydrates and when eaten lead to a flood of blood glucose that most people cannot handle effectively. This disrupts insulin balance in the body leading to a host of other hormonal issues over time: obesity, allergies, behavioural problems, etc. Over many years this also contributes to issues of insulin resistance, metabolic syndrome and diabetes.
2-This is not to mention the added sugar in its many forms (agave, honey, fructose, maltose, dextrose, barley malt, etc) that is added to even 'healthy' organic cereals. Added sweeteners are the best preservatives because they block various forms of spoilage bacteria by tying up the water content in which they grow. If no sugar is added, then you will undoubtedly see various preservatives on the ingredient list.
3-Cereal grains are highly processed. What exactly does this mean? They are stripped of the nutritious germ and bran during production and what we are left with is mostly highly refined white flour. In nature, wholegrains also contain vitamins, minerals and enzymes, protein fat and fibre- all vitally important in the diet. These are all stripped during processing. Highly refined carbohydrates are considered by many experts in medicine and nutrition to be the culprits in every major health condition.
4-The body actually uses its own reserves of vitamins and minerals in order to 'deal' with processed cereal carbohydrates. Over time, this places a significant strain on all systems, thereby leading to significant nutrient depletion.
5-The high heat applied to the cereal grain during processing renders fragile fatty acids within the grain rancid. This means that the fat cannot be metabolised by the body and accumulates in fatty tissue.
6-All puffed, flaked, popped and otherwise extruded cereal grains are toxic due to this fat rancidity issue.
7-Traditionally, whole grains have always been 'properly' prepared by soaking, sprouting or sour leavening. The reason for these practices is to eliminate or significantly reduce phytic acid- a substance that binds with iron, calcium, magnesium, copper and zinc in the intestine and blocks their absorption. All commercial cereals contain the full amount of phytic acid which makes it extremely difficult for us to digest whatever minerals might be remaining in the final product.
8-Most commercial cereals are stripped of the majority of the vitamins and minerals that the original grain may have contained via the processing. Hence, synthetic vitamins and minerals are 'sprayed' onto the product at the end of production in order to make claims such as 'provides 40% of your daily iron needs', etc. These synthetic vitamins and minerals are poorly if at all utilised by the body. Watch this 5 min video from the Discovery channel to see cereal production in all its 'glory'.
So, what are we to eat for breakfast?
Simple answer: what people ate before cereal was invented in the early 20th century!
There are 2 directions you can take for a wholesome breakfast: one is to make healthier breakfast type foods from wholefood ingredients, ie: real food! Some ideas for these you will find below.
Another direction (one that I follow about 3-4 mornings per week) is to eat 'normal' food for breakfast! Basically any food that you would normally eat for lunch or dinner. If you follow my facebook page, you will see my regular breakfast pics and some of them are: duck and veggies, soup or pate! This requires viewing breakfast through a different lens and may take a bit of mental adjustment. The easiest way to adjust to eating normal food for breakfast is to try and imagine what your great-grandparents would have eaten!
Here are some ideas for super healthy real food breakfasts that still fit into the 'breakfast framework' for many people:
1) Eggs! obvious.
But, you wouldn't believe how many people say to me "I don't have time to make eggs in the morning!". Seriously? Put pan on heat with some coconut oil or butter (get dressed whilst pan heats up to save time). Crack 2 eggs on pan. Wait for exactly 1 min (during which get a drink of water to re-hydrate yourself first thing in the morning). Then- eggs are ready! If you are becoming more efficient at this, throw some sliced mushrooms or spinach (wash and cut the night before) and you will have the most wholesome breakfast on the planet! And studies show that you will lose weight much faster with a breakfast made up of eggs compared to a bread laden breakfast (check out this study).
2) Chia and nut 'puddings' of all kinds. Basically made in blender or food processor (or thermomix if you've invested your life savings you might as well use it), using nutrient dense ingredients: nuts, chia seeds, other seeds- pepitas, sunflower seeds, sesame seeds, a liquid of choice: I recommend home made almond milk or coconut milk or simple purified water, some fruit (berries are best) and fancy ingredients if you wish like cacao or maca powder. Check out my simple chia pudding recipe here.
3) Smoothies– made as number 2 above but with more liquid! Great to throw in some green leafy veg here (lightly steamed). Coconut water also makes a great liquid (ideally from a freshly cracked coconut). Here is an easy nutrient dense smoothie. Or be really clever and combine with item 1- throw in one or two raw egg yolks too! (not the whites, these shouldn't be eaten raw).
4) Pancakes. These are best made with gluten free flours like buckwheat or coconut flour or grain free using almond meal (and other nut/seed flours). Batter is made the night before to neutralise the phytic acid mentioned above. An easy buckwheat pancake recipe is here and is loved by young and old.
5) Bread substitutes. If you don't handle grains well due to various digestive and hormonal issues and follow Paleo principles, there are many Paleo 'bread' type recipes around. Here is one I like – with lovely nut butter spread on top.
6) Grain free super nutrient muesli! Make your own muesli from activated (to remove phytic acid) nuts and seeds, coconut flakes, a bit of dried fruit and serve with home-made almond milk. I'm playing around with a perfect recipe for this at the moment, stay tuned!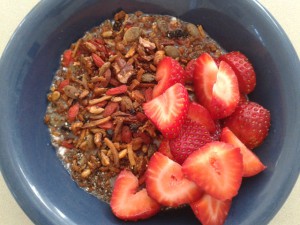 Give these a go and think outside the box of cereal. Your body will thank you for it!
I will be running a breakfast workshop early in 2015 so you can get some hands on cooking experience in a variety of super quick and simple breakfast dishes, so keep checking for updates!
Sources:
"Nourishing Traditions", S.F.Morell
"Your Personal Paleo Code", C.Kresser
Share
Like what you've read? Sign up to receive regular articles on nutrition, recipes and more