Ancient Minerals Magnesium Lotion 150mL
My favourite magnesium lotion – no sticky or itchy feeling like with some oils.
I apply roughly 1 tsp of this magnesium lotion on legs/torso after a shower, before bed, Suitable for children (use 1/2 tsp).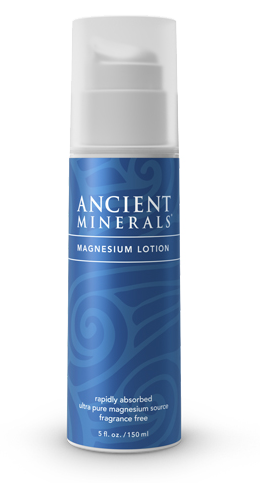 Magnesium is a 'master' mineral that is responsible for numerous vital functions in the body:
– sleep initiation and maintenance, nightmares
– sore muscles and joints
– post exercise recovery
– headache and migraine relief
– energy production
– cardiovascular health
– may assist in maintenance of normal blood pressure in healthy individuals
– healthy nervous system function
– healthy glucose metabolism
– bone mineral density
90% or more of the population is magnesium deficient – I see this on hair analysis testing every day! Research suggests that we are not getting enough magnesium in our diet to meet our body's needs. This might be due to an increased demand for magnesium during times of physical or emotional stress, due to acute or chronic illness or due to our diet and lifestyle. Also, the soils are increasingly depleted of minerals and magnesium is contained mostly in vegetables, which most adults and children don't eat enough of.
Magnesium works within our cells — the powerhouses, factories and regulators of the body's systems. Its crucial role in over 300 fundamental biochemical reactions affects the brain, the muscles, the heart and blood vessels, and ultimately our overall health and well-being.
Signs and symptoms of magnesium deficiency:
Anxiety, mood swings, depression
Headaches and/or migraines
Asthma
Diabetes
Osteoporosis
Chronic kidney disease
High blood pressure
Endocrine dysfunction (thyroid)
Irregular heartbeats or arrhythmia
Chronic intestinal disease such as Ulcerative colitis, Crohn's disease or Irritable Bowel Syndrome (IBS)
Menstrual Pain
Poor gut motility and constipation
Fatigue
Muscle spasms in hands or feet, cramps
Poor sleep or poor ability to fall asleep
Restlessness, irritability, agitation, tension
Small muscle twitches around the eyes or face or anywhere in the body
Hand tremors
Mental or physical fatigue
Poor concentration
Factors that contribute to magnesium deficiency:
Drinking alcohol daily or >7 drinks per week
Strenuous exercise
More than 3 coffees daily
Frequently eating high sugar containing foods
Diet high in processed fatty foods and/or low in green leafy vegetables, nuts and seeds
Consuming soft drinks daily
Any type of diuretic medication
Known vitamin D deficiency
Heavy metal toxicity
Taking oral contraceptives and/or frequent antibiotics
Recent or past traumatic stress- physical or emotional
Dr. Carolyn Dean, M.D., naturopathic doctor, and author of The Magnesium Miracle has said:
"The real miracle is that that modern man gets by as well as he does with so little of this essential nutrient. A hundred years ago — before we depleted our soil with greedy agricultural practices — the average person received at least 500 mg of magnesium a day, according to the US Department of Agriculture. Without supplementation, in 2009, even on a pure organic diet, you're looking at only 150 mg at best. Those on a pure McDonald's diet may be lucky to get 50 mg. And we may need between 600 and 900 mg… per day!"
Ancient Minerals Magnesium Lotion – Product Application and Usage
Ancient Minerals Magnesium Lotion is a smooth, quickly absorbed emulsion of magnesium chloride in a skin-nourishing base of certified organic oils. Ancient Minerals is fragrance free, paraben free, and contains no phenoxyethanol.
Suitable for sensitive skin.
Simply apply desired amount into a cupped hand and rub into the skin thoroughly. Repeat as appropriate to treatment regimen, covering any areas needing special attention.
Ancient Minerals Magnesium Lotion – Product Details
Ingredients: Purified water, Genuine Zechstein™ magnesium chloride (and other naturally occurring trace minerals), organic vegetable glycerin, organic simmondsia chinensis (jojoba) seed oil, olive squalane, cetearyl olivate, sorbitan olivate, organic cocos nucifera (coconut) oil, glyceryl stearate, cetyl alcohol, organic butyrospermum parkii (shea butter), xanthan gum, lactobacillus ferment, cocos nucifera (coconut) fruit extract, sodium hyaluronate
One teaspoon contains approximately 185mg elemental magnesium.
I often prescribe highly absorbable oral magnesium supplements in addition to magnesium lotion – if you suffer from the conditions listed above or have many of the magnesium deficiency signs, it's worth getting to the bottom of it. You can book a FREE 15min intro call HERE.